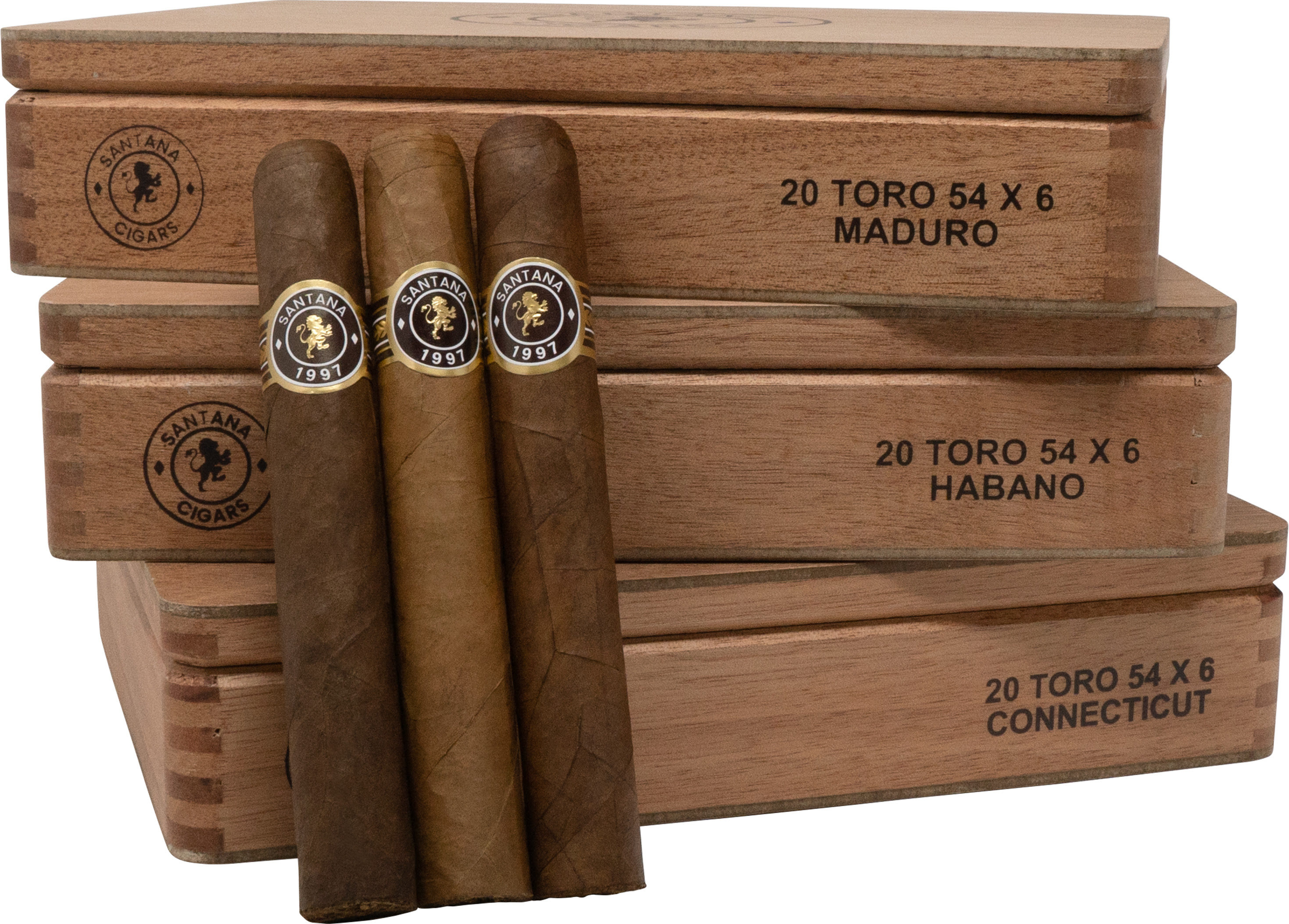 (Miami, Florida) May 22, 2023, Santana Cigars & Co. announces the release of the Santana 1997 Series. The Santana 1997 Series is composed of different three blends. Santana Cigars Co. made its debut as a company in January 2023. Owner of Santana Cigars, Andy Santana, felt it was the right time to release this series of cigars which have been years in the making. Santana Cigars made its debut this past January with the Santana San Andres.

Andy Santana, who owns two cigar shops in Miami (Absolute Cigars) featured three house blends which were popular with his patrons. After years of tinkering with the blends Andy is ready to make them available nationally. The Santana Series features three distinct blends. The year 1997 is significant as it was the year in where Absolute Cigars Shop opened its doors.

Santana 1997 San Andres: A San Andres wraps around a Sumatra binder and Corojo, Dominicano Criollo, and Pennsylvania filler. Toasty and black tobacco notes lead to highly evolved cedar and molasses. Black pepper is present throughout the smoking experience. The cigar is medium in strength.

Santana 1977 Habano: Boasting a Habano wrapper, this blend features an Indonesian binder with Habano, Corojo, and Criollo 98 filler. Toasty, woody, earthy, and black pepper notes describe this medium-to-medium full-bodied blend.

Santana 1997 Connecticut: Featuring a true Connecticut wrapper, this blend features am Indonesia binder which houses Corojo, Nicaraguan, and Pennsylvania filler. Extraordinarily strong cedar notes that lead to sweet notes accompanied by white pepper. Toasted notes are present throughout the smoking experience. This blend is medium bodied throughout.

Andy Santana, owner of Santana Cigars said," The Santana 1997 Series has been a work in progress for years. Throughout the years I was able to get constant feedback from patrons of my cigar shops, Absolute Cigars. That one-on-one contact with the consumer forced me to tweak the blends. It is now time to share these blends with a wider audience.

"The Santana 1997 blends are a collaboration between Andy and Master Blender William Ventura.

For more information, visit www.SantanaCigar.com

ABOUT SANTANA CIGARS
It has been said that "Tobacco is the plant that converts thoughts into dreams.," and Santana Cigars is no different. Andy Santana, born in Cuba, grew up around tobacco and always dreamed of a career surrounded by the magical leaf, tobacco. After his defection from Cuba Andy followed his destiny by purchasing two successful cigars shops in Miami and now looks to share his dreams with you via Santana Cigars.